Let's face it: finding the best WordPress plugins for your needs can be a challenge.
From design elements to functionality, plugins have become an essential part of creating a WordPress site.
After building hundreds of WordPress sites, I have found the best plugins for most uses in WordPress. I wouldn't recommend adding all of these to one site but no matter your need I have compiled the best WordPress plugins for most use cases. Additionally I have provided alternatives to each if you have tried a solution and it didn't work for you.
Here's my list of the best WordPress plugins in 2020: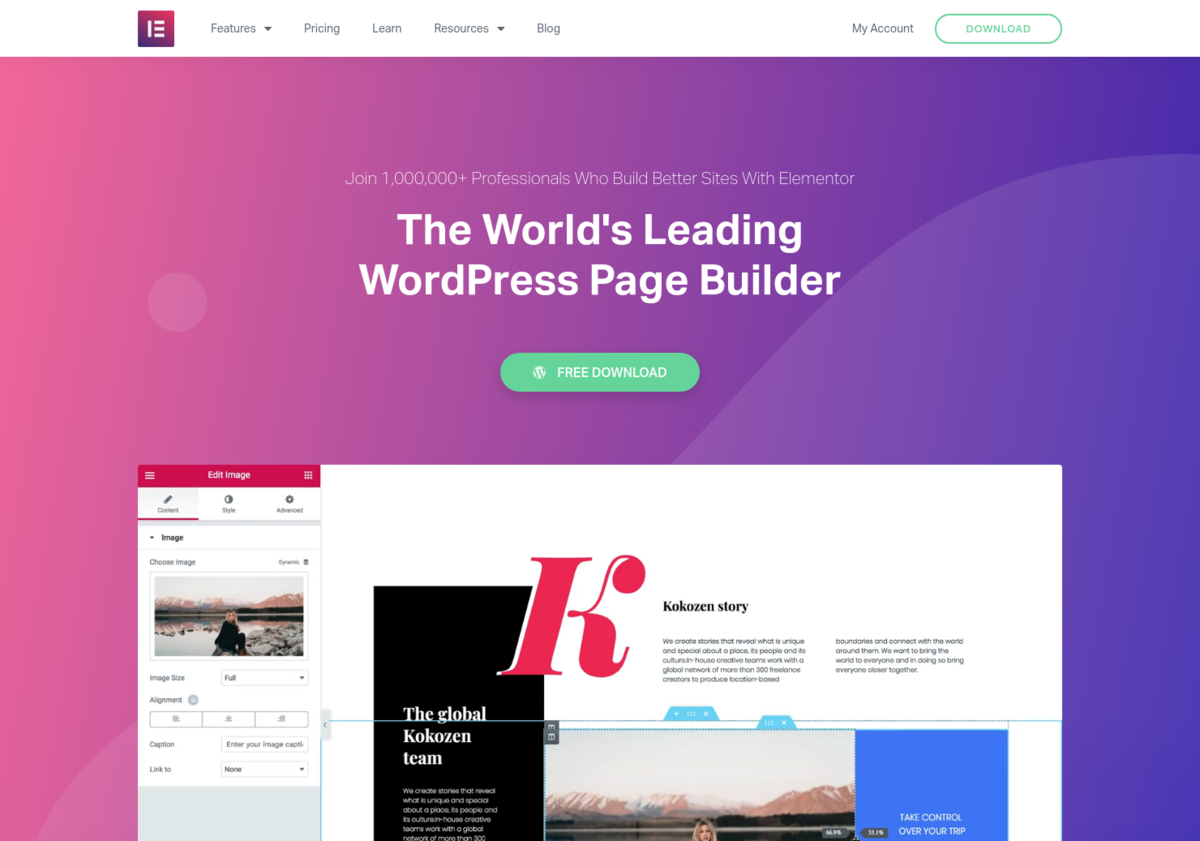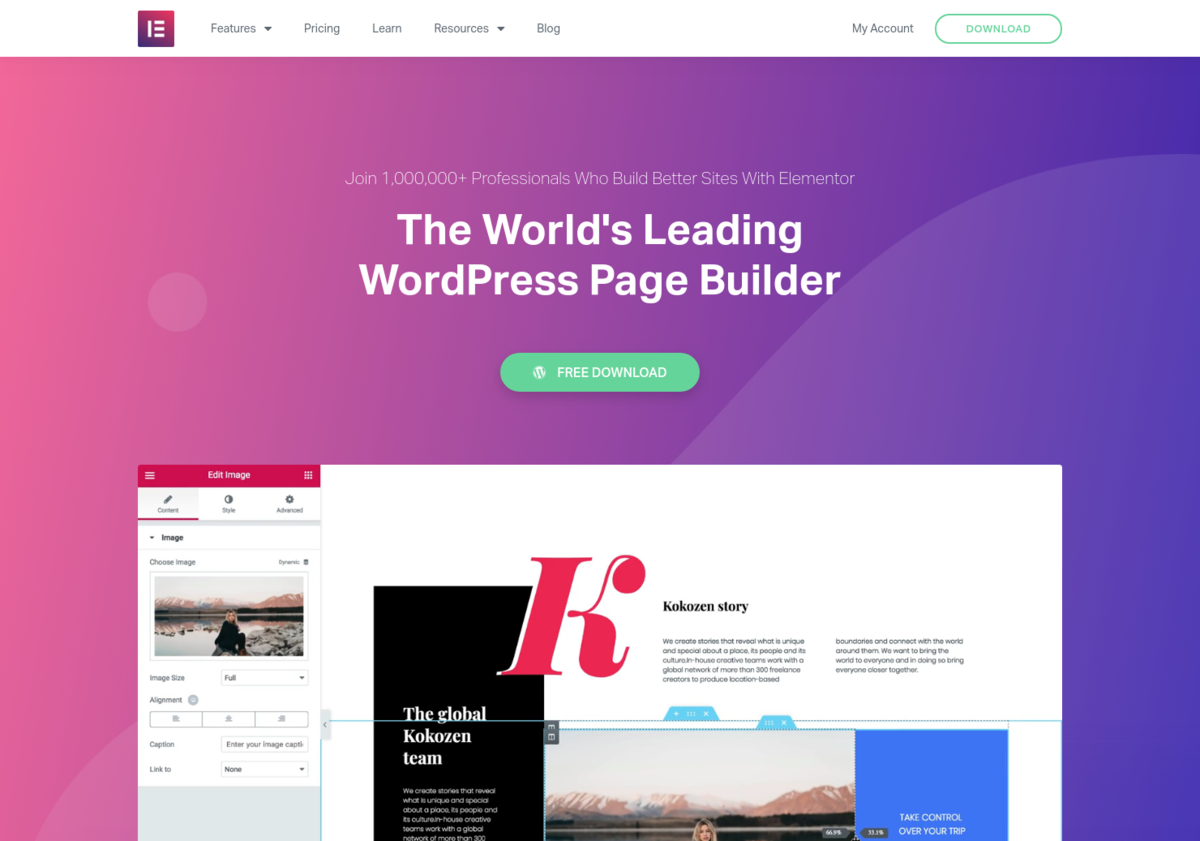 Lately I have enjoyed using Elementor page builder to craft WordPress sites. If you're unfamiliar with Elementor it's a page builder that lets you build pages with a drag and drop interface.
Want to know more about Elementor? Read my Elementor Review.
I like Elementor since it gives you the ability to create headers and footers using the editor. It's important to note that the editor for the header/footer is only in the pro version of the plugin.
Since Elementor offers so much customization, you aren't as dependent on a theme, and you'll need less features. I've found that the themes AstraWP, GeneratePress, and OceanWP are all great companions to Elementor.
Elementor has become essential to me by allowing me to quickly create pages for clients. Best of all they offer templates of popular pages so you can quickly start building your WordPress blog.
Elementor Alternative: Another highly recommended page builder is Beaver Builder. I would recommend trying the free version of both to figure out which one you like more. Beaver Builder is a great alternative if you aren't a fan of Elementor.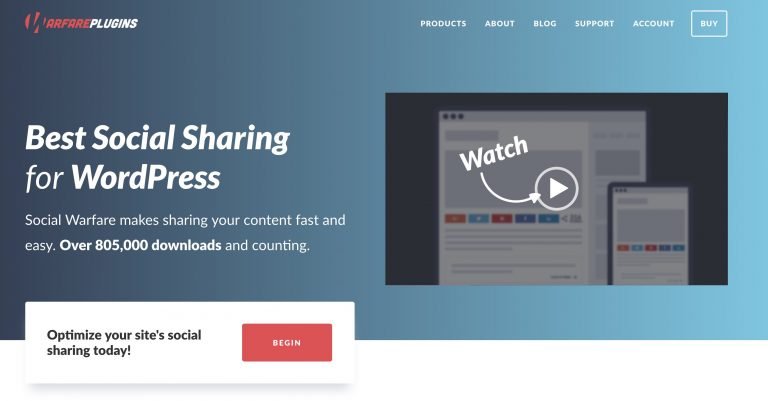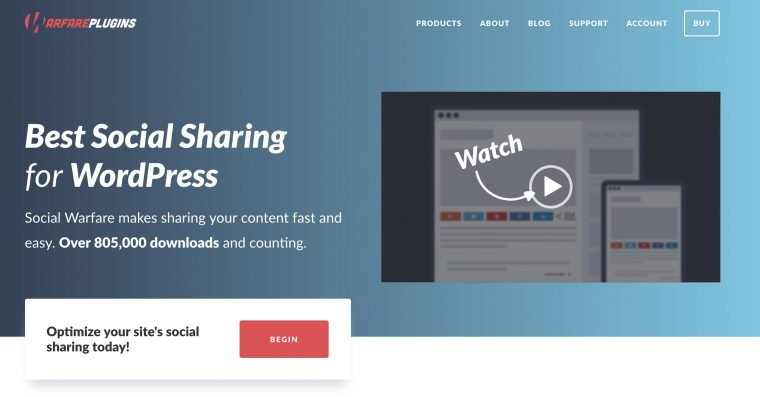 Social sharing is an important element of any blog and Social Warfare offers the perfect set of social sharing buttons. I have found Social Warfare a joy to use due to its simple but effective design.
Having enticing buttons for readers to share content can bring you more traffic and better Google rankings.
With options for Pinterest, Twitter, Facebook and more, Social Warfare has you covered for all of your social needs. Some of my favorite options include the floating bar that will hover to the side of your post as your visitor reads.
If you buy the pro version of Social Warfare it offers additional color schemes and advanced options.
Read my Social Warfare Pro review here.
Social Warfare Alternative: Share Buttons by AddThis is another great alternative to Social Warfare. It offers sharing buttons for over 200 services for free.
Gravity Forms has been one of my favorite plugins for years. If you need a simple contact form or something more advanced, Gravity Forms is incredible.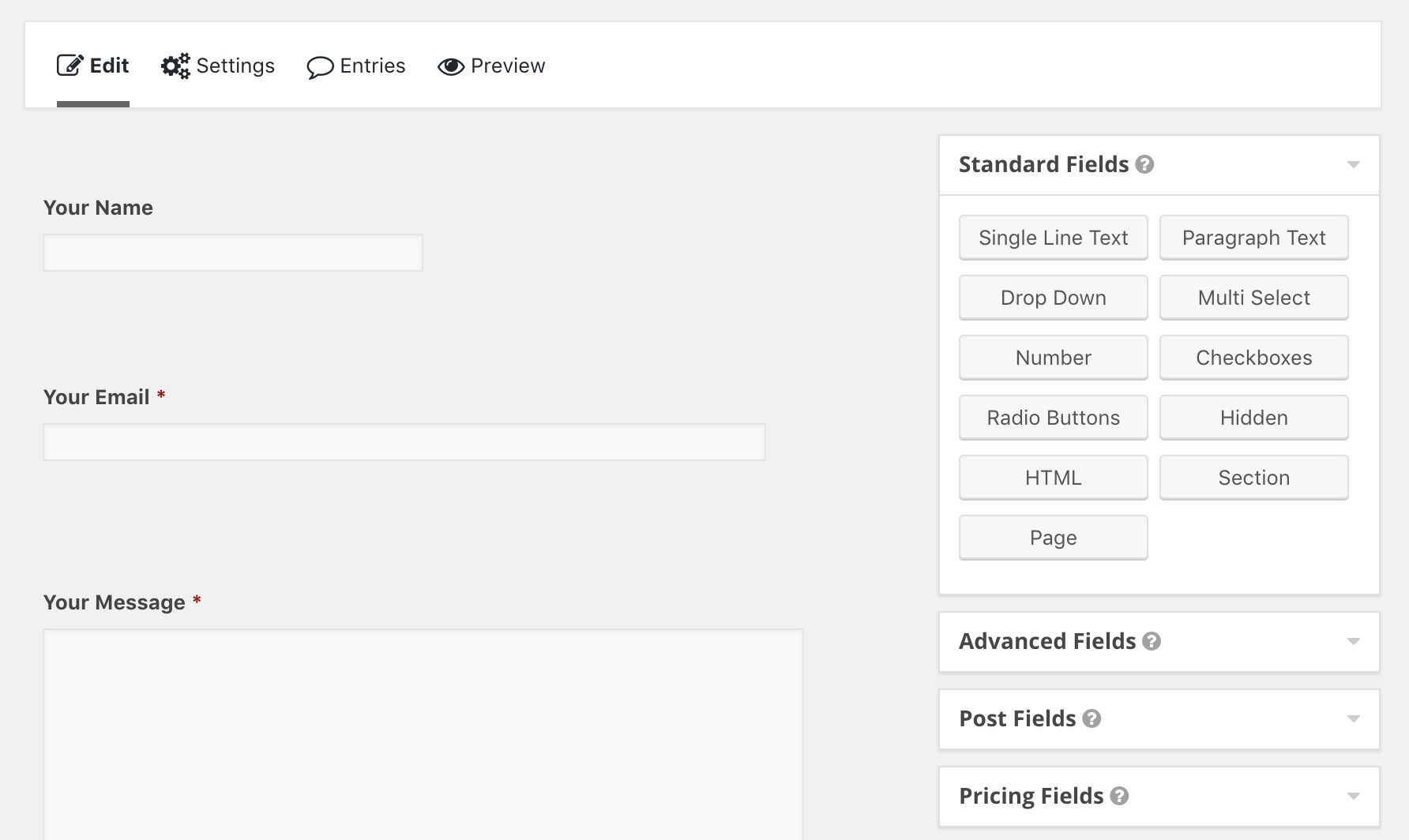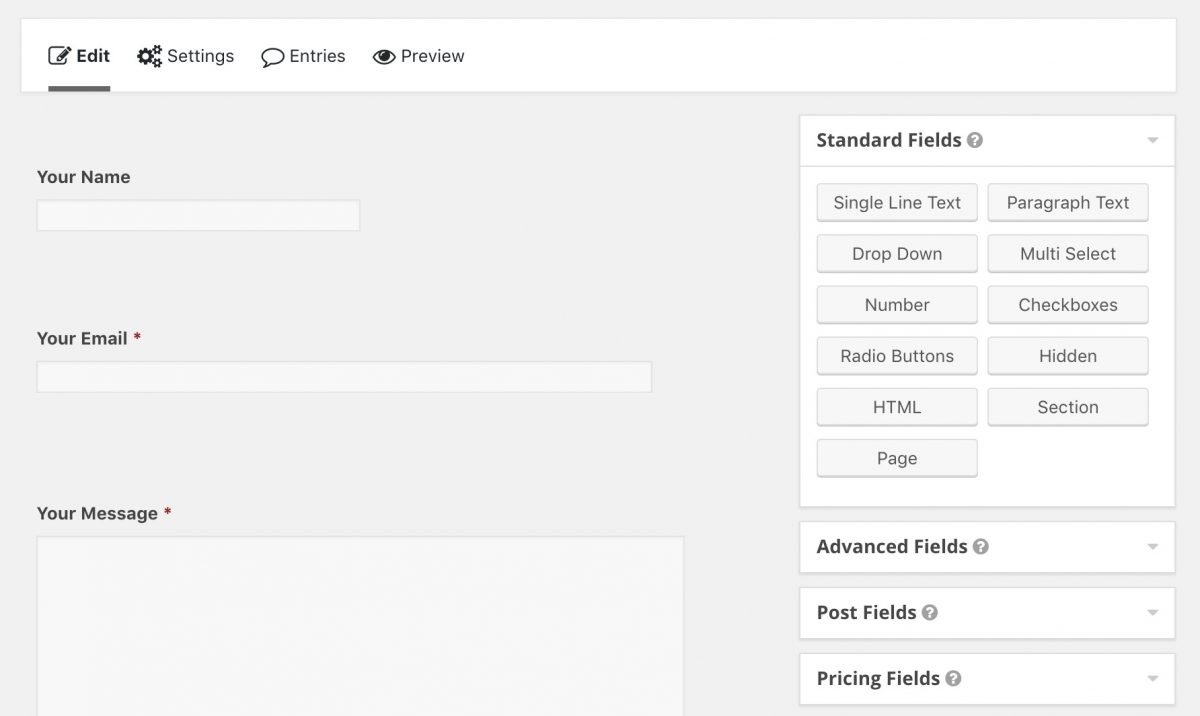 Gravity Forms is the perfect plugin to grow with your WordPress site.
The amount of forms you can create with Gravity Forms is endless. Make contact forms, create newsletter signups, charge credit cards, craft complex questionnaires, and more. Plus, as a developer, Gravity Forms includes a great documentation of hooks and actions.
Gravity Forms Alternative: Ninja Forms is also a great options for building forms in WordPress that offers tons of integrations.
When migrating a website to WordPress you may miss redirecting pages to their correct counterpart. WP 404 Auto Redirect is a fantastic plugin that will redirect 404 pages to similar pages.
This is a great plugin for when you have 404ing content or if you delete a post, since it'll automatically redirect the user to similar content. Even if you change urls, WP 404 Auto Redirect will most likely redirect the user to the correct content.
For example if you have visitors going to an old page called "/best-sushi-2019" and you have renamed the page "/best-sushi-2020" WP 404 Auto Redirect will redirect users to the correct post since it's similar in title.
If you have a blog you know how important linking to other sites can be. If you want external links to open in a new tab and to have a nofollow attribute, WP External Links is the perfect plugin.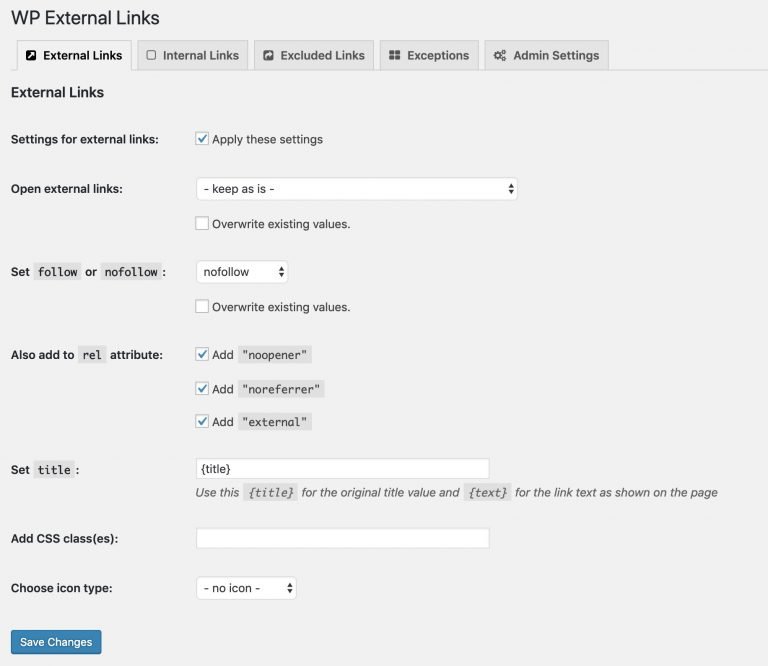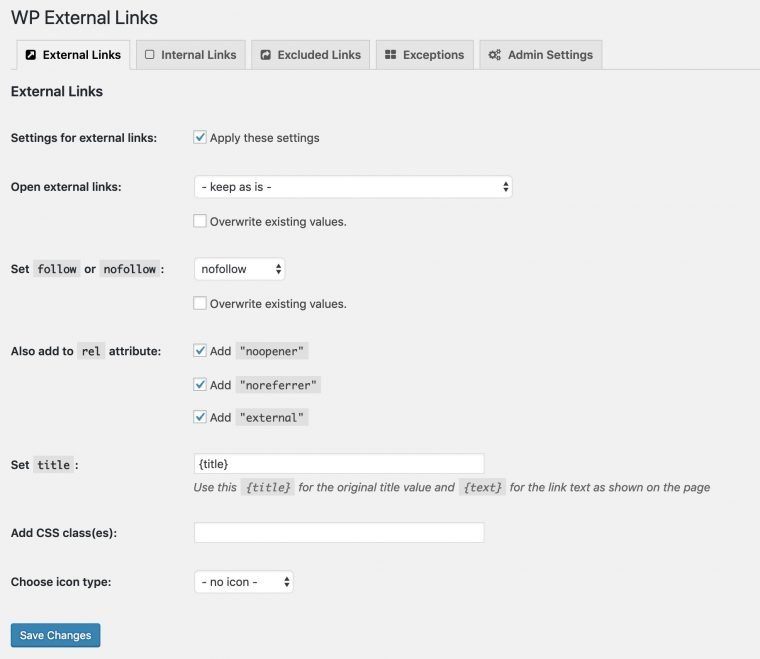 Typically, linking outside of your site gives SEO "juice" to those links. Most bloggers prefer to add a nofollow attribute to external links. A nofollow link is a rel="nofollow" HTML tag on a link. This tells search engines to ignore this link and won't pass PageRank to the link.
Plus you can have external links open in a new tab so users keep your site open in a tab.
Best of all if you want to exclude specific domains from your nofollow attributes, you can do it with this plugin as well.
Performance is always on top of my list when building a WordPress site and WP Rocket has to be my favorite way to speed up your WordPress site. It will cache your pages, minify html/css/js, change image urls to a cdn, optimize your DB, and much more.
WP Rocket is also constantly adding new features like lazy loading of images, disabling emoji, and caching Google Analytics tracking scripts.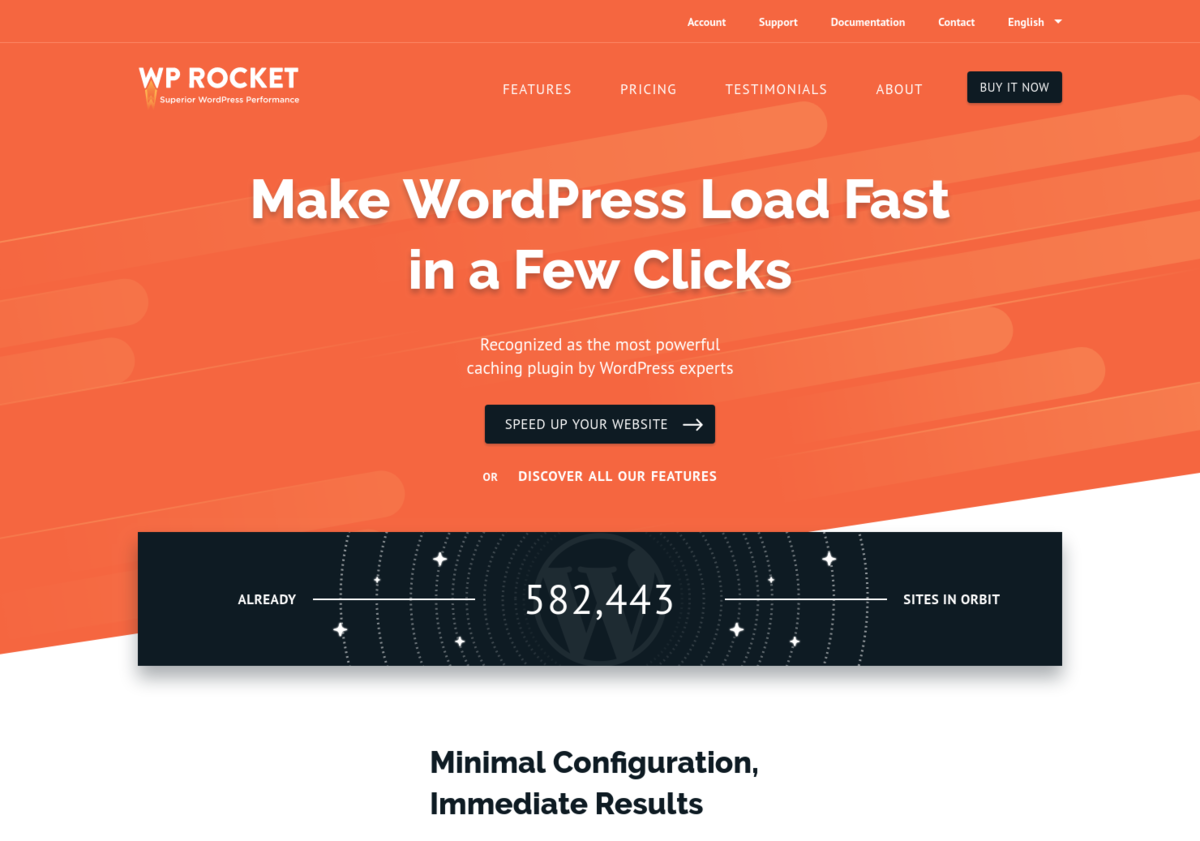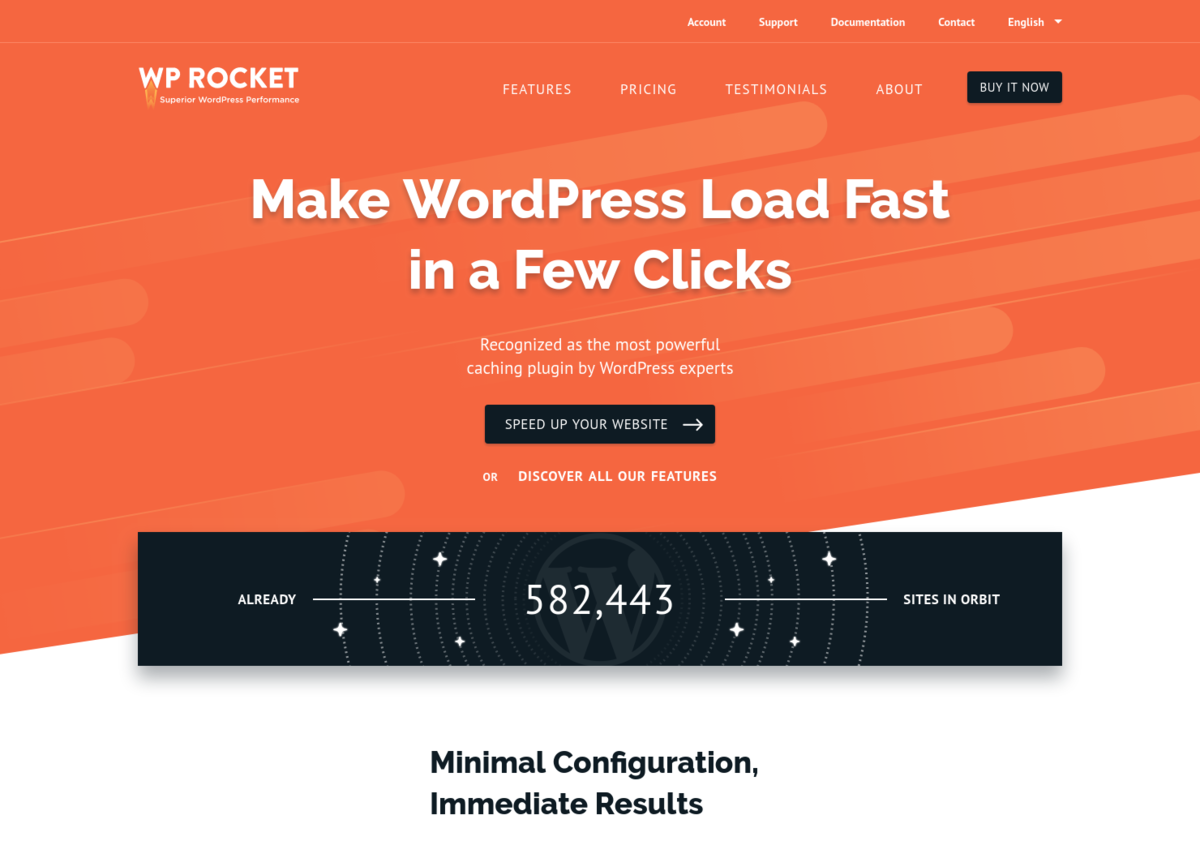 But by far my favorite feature is the ability to preload your site via your sitemap. Whether you're using a custom sitemap or Yoast; WP Rocket will preload all of your pages so you no longer need to worry about low traffic sites loading fast.
Additional WP Rocket Features:
Page Caching: This is a no brainer of a caching plugin but WP Rocket saves your pages in cache so they'll load instantly for the front end user. I love that they also included the ability to cache logged in user pages too.
GZIP Compression: GZIP has become the standard for compressing pages and WP Rocket will handle it for you behind the scenes.
Browser Caching: Images and other static resources typically should be cached in the user's browser and WP Rocket configures this for you.
Image (and video) Lazy Loading: If you have a large blog post with lots of images lazy loading the images can give you a big performance boost. Images and videos lower on a page are loaded as a user scrolls to them rather than when the page is initially loaded.
Google Font Optimization: WP Rocket will combine your Google Font requests into one, this is a great behind the scenes option if your theme isn't doing this already.
Defer JS Loading: This will load JS after the page is loaded making your page appear to load even faster!
CloudFlare Compatibility: I highly recommend using CloudFlare for your site and WP Rocket will optimize your Cloudflare settings along with adding a button to clear CF cache.
CDN URL Rewrite Options: If you're using a CDN WP Rocket lets you overwrite image, CSS, and JS urls to use your CDN URL.
Best of all the user interface for WP Rocket is incredibly simple, I've found other caching plugins to be confusing but WP Rocket makes enabling all of these features simple.
WP Rocket Alternative: Another great caching plugin for WordPress is WP Fastest Cache, plus it's free! It doesn't include as many features as WP Rocket but if you're on a budget it'll cache your pages. This includes generating static html files that are minified in addition to minifying CSS/JS files. When you update a post or page the plugin will automatically clear the cache so you won't need to worry about clearing cache.
Imagify (Free, $4.99+/mo)
Everyone can agree a slow website can destroy a user's experience.
One of the best practices you can do is compress your images so they load faster for the reader.
Imagify automatically compresses your images in WordPress as you upload them so you never have to think about compressing images again.
I install Imagify on just about every WordPress website I create. Sometimes I can see 80% reductions on JPEG images which can lead to huge performance improvements for users.
It's also made by the team who made WP Rocket so they work in perfect harmony.
Imagify will compress your images for free but if you upload many photos a month you'll need to get a paid plan which is well worth it.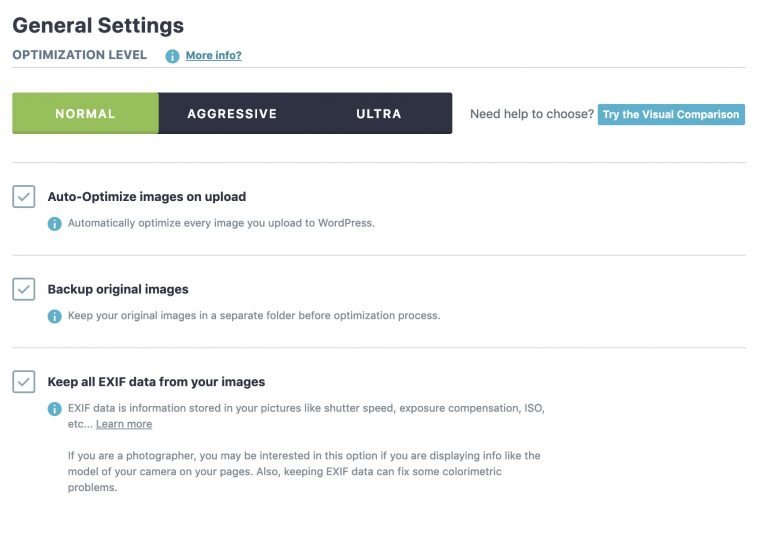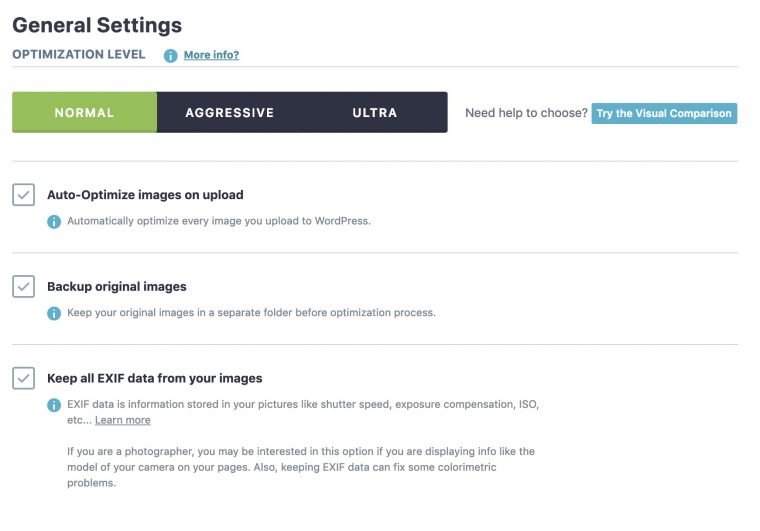 I love the features Imagify includes, these include your compression level and even resizing original files.
Imagify Alternative: One alternative to Imagify is Optimus which optimizes your images when they are uploaded like Imagify but doesn't have a monthly fee. I found the options to be a bit more clunky but this is a budget friendly way to compress your images on the fly.
WordPress search out of the box is awful. If you don't type exactly what you're looking for correctly it won't return the correct results.
If you want people to take your site seriously and they aren't able to find the content they are looking for that will be a huge problem.
SearchWP fixes the WordPress search by including misspellings and ranking results by relevance rather than date. Plus it searches additional content like custom fields and even PDFs.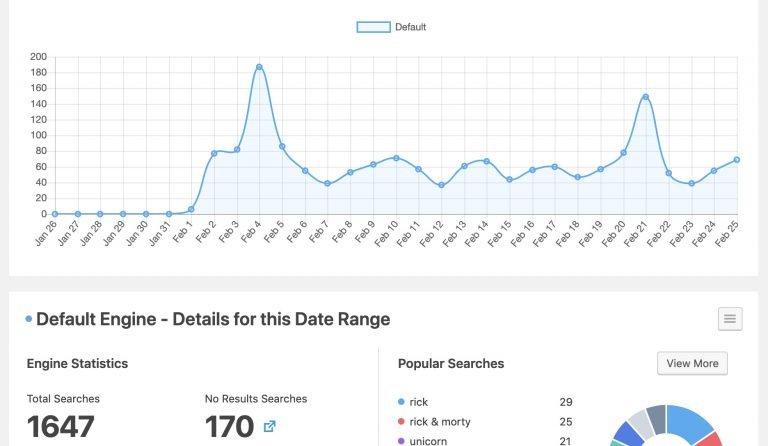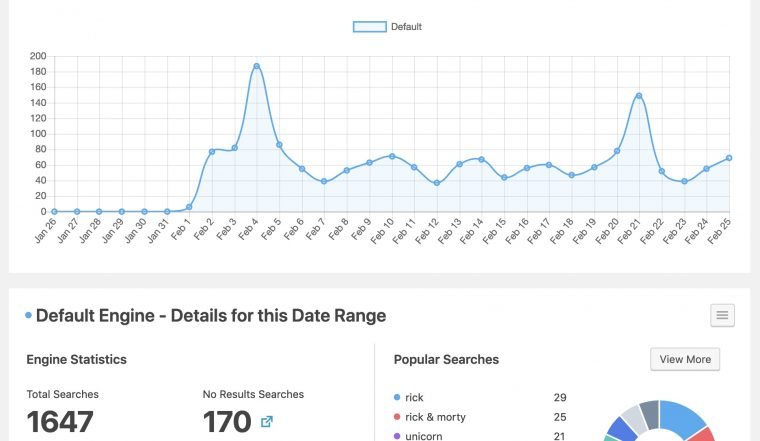 I love that they also give you search metrics so you can see zero search results to identify content people are looking for.
SearchWP Alternative: Relevanssi is also a great option when improving WordPress' built in search functionality. Plus the basic version of Relevanssi is free but if you want to search PDFs you'll need to get the premium version.
Yoast SEO is one of those classic plugins every WordPress site should have installed. Yoast lets you edit meta tags of your pages so you can fill out descriptions and titles for Google.
If you want your site to rank highly in Google, Yoast SEO is essential. From my experience if you don't fill out a meta description your content most likely won't rank high at all in Google.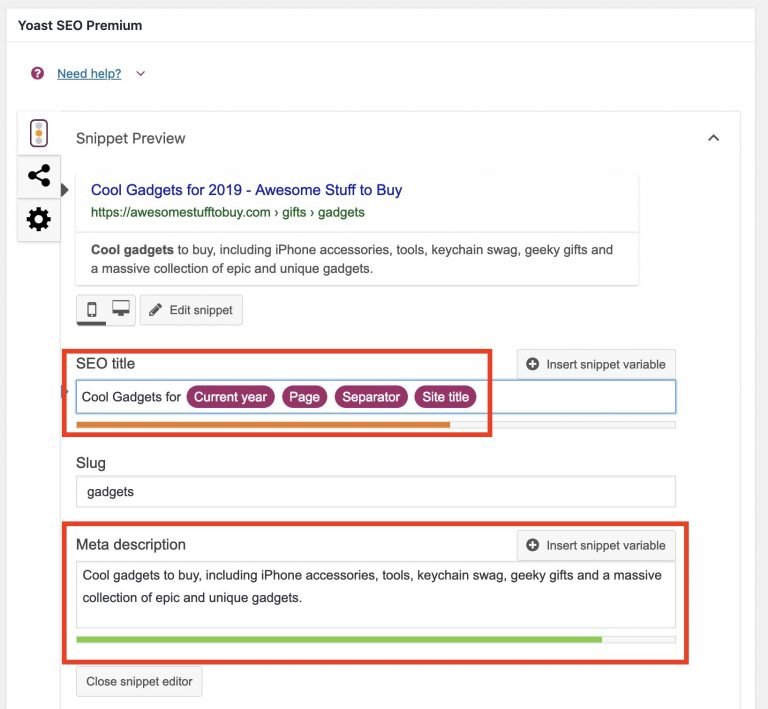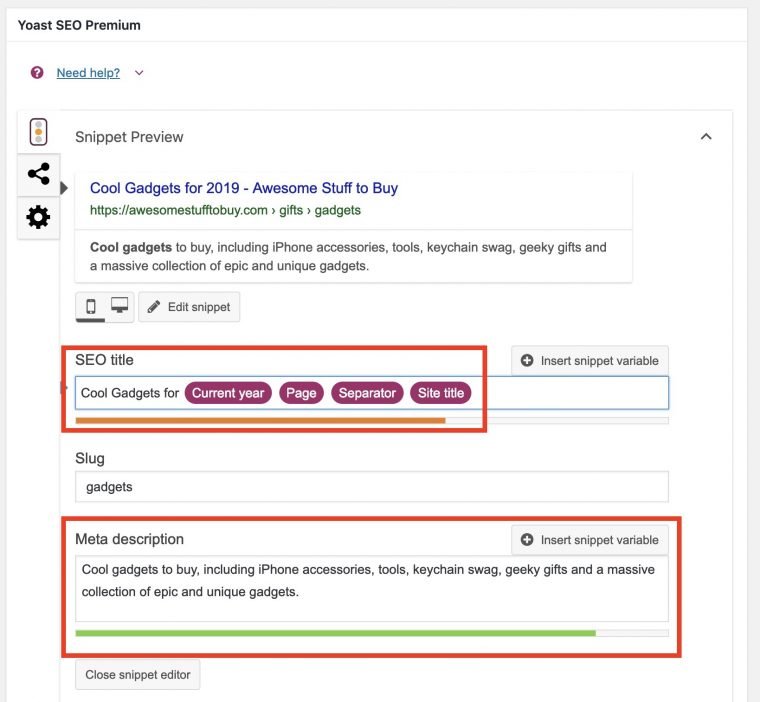 Yoast SEO will also generate a sitemap of your WordPress site so you can submit your sitemap to Google in Google Webmasters. This sitemap lists all of the pages on your site so Google knows which to index.
The plugin also offers useful things like redirecting author pages to the homepage (useful if your blog only has one author). You can also redirect all media type pages to the posts they are attached to.
The options and tweaks Yoast provides are essential to any site in 2020.
Yoast SEO Alternative: If you aren't a fan of Yoast a lot of people also recommend the SEO Framework plugin which offers a lot of the same options in a lightweight package.
Most premium WordPress hosts will backup your content daily for free. If you're managing your site on your own VaultPress is the best backup plugin for WordPress. With a 30 day backup archive, automated backups with unlimited space, easy 1 click restores, VaultPress is a no brainer for sites that want to run smoothly.
VaultPress Alternative: ManageWP if you are managing multiple sites ManageWP is incredible for backing them up and ensuring all sites are in good health.
If you write massive blog posts with over 2000 words a table of contents at the start of the post can do wonders; especially when writing list posts.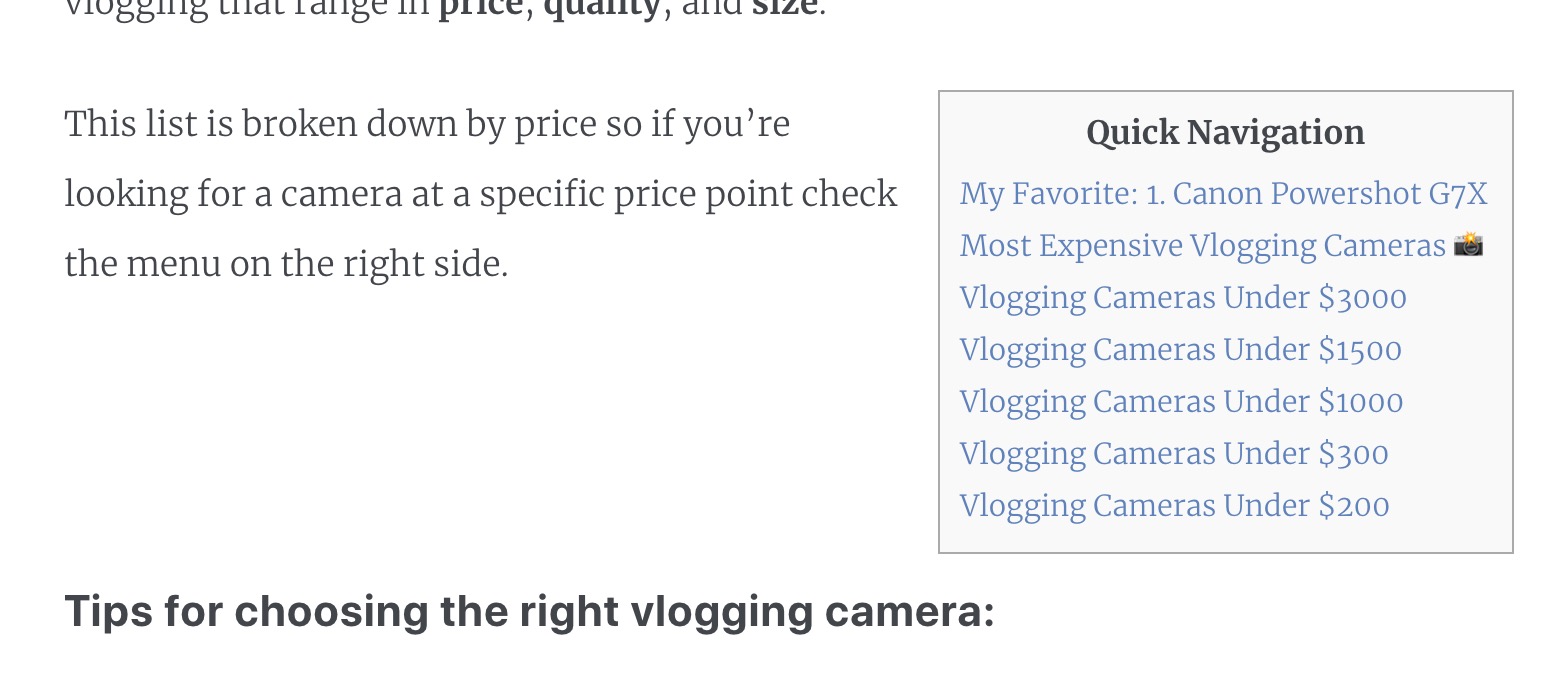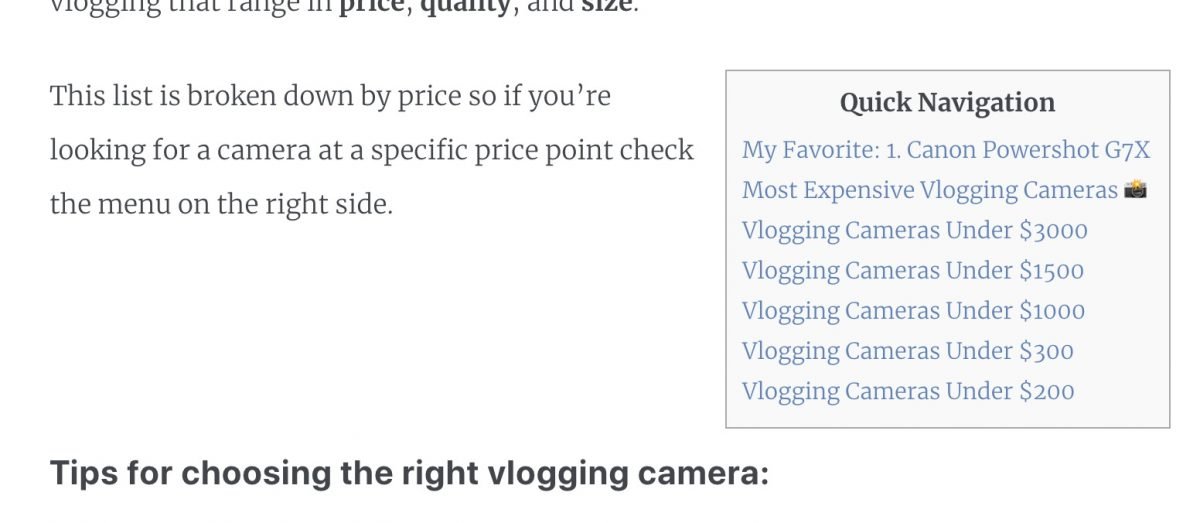 You could manually add anchor tags to each heading and create an index at the top of your post but using Table of Contents Plus takes out the tedious work of that. Basically the plugin loops through your h2, h3, h4, etc tags to create a navigation area in posts. I love the amount of configuration you can do in this, plus if you just want to include h2 tags it's as simple as modifying the shortcode.
Now I am a huge fan of Wordfence for free WordPress security but sometimes you need something more robust.
SecuPress Pro offers some core security features like limited bad login attempts and rate limiting malicious bots. I've found that this works well on sites with lots of traffic and I haven't had a website be victim of attack while using the plugin.
SecuPress will also block SQL injections, block bad user agents, stop bad requests, and even gives you options to block users by country.
You can also hide your login using the plugin which will change your wp-login.php and wp-admin urls which will block out tons of bots that use those urls.
SecuPress can also disable all comments and trackbacks on your site since most business oriented sites don't need comments enabled.
SecuPress Alternative: WordFence is a great (and free) option for WordPress security, I find the UI to by confusing which is why I recommend SecuPress but you can't go wrong with either plugin.
If you have multiple people accessing your WordPress site having an audit log of what each person has changed is essential.
Simple History offers a simple history of actions on your wordPress site that can be filter by user, date, and even event type.
This is extremely helpful if you have multiple editors or even if you want to monitor what a client is doing. I have had cases where this plugin can save your butt since you can point out something was done by the client rather than you.
Most blogs use Google Analytics to track their traffic and the Google Analytics plugin by MonsterInsights is simple to setup and best of all is free. This plugin simply adds the GA tracking code to all of your pages. What I love is that it also disables the tracking if you're logged in so it won't count page view by an admin, editor, or author.
Google Analytics has tons of features like real time stats, tracking Ecommerce data (this plugin makes it work with Woocommerce), tracking populars pages and much more. I don't think I know anyone who isn't using Google Analytics to track their users.
The MonsterInsights plugin also offers some paid upgrades like viewing stats on your dashboard and tracking downloads but I think the free version will fit the majority of use cases.
Let's say you have a website for a restaurant you know how annoying it can be to get emails about comments when you don't even want comments! Within WordPress you typically have to turn off comments for each post individually. Disable Comments will disable ALL comments on your site with one click!
There are many pages in WordPress that have comment forms that you may not even be aware of like media content types. I've seen this cause a lot of confusion for clients since they disabled comments on all posts but didn't even realize the other comment forms existed.
If you don't plan on having comments on your site I recommend using this to disable all of your WordPress comments.
---
Whether you're looking to improve your WordPress page speed, security, SEO, design or functionality these are all must have plugins for WordPress.
Thanks for reading!
If I missed your favorite WordPress plugin let us know in the comments so we can check it out!