The Pebble watch offers some pretty basic features accessible from your wrist for around $100. Skipping songs while driving, seeing who texted me without taking my phone out, and checking the time is most of the functionality I get out of this awesome gadget.
A friend first showed me the Pebble over a year ago leaving me somewhat unimpressed, but after owning one of my own and tinkering with it my opinion has changed. It now includes an app store to download new watch faces, apps, and even games. The apps rarely work for me (the Pebble iPhone app doesn't stay in memory on my phone), but I don't even mind since the basic music app and notifications always work properly.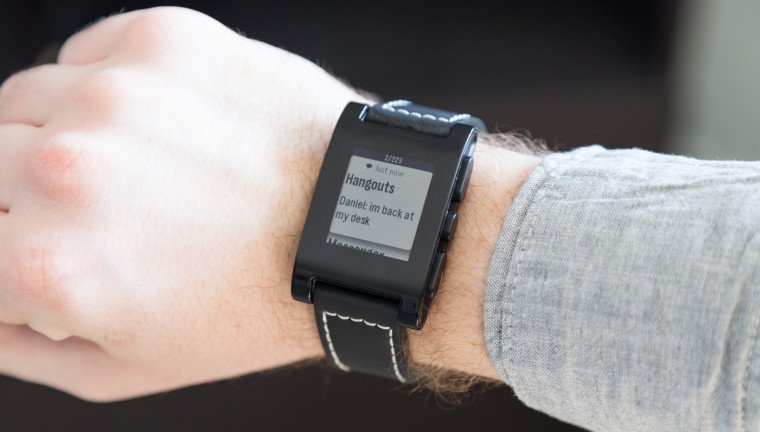 My first impression was that the Pebble only displays texts and calls, but it displays any notification that pops up on your phone's screen. This makes it such a killer device by knowing you haven't gotten a notification, thus enabling me to leave my phone in my pocket more often.
After a couple of months of use the act of checking notifications on my wrist became second nature. On the few days I wasn't wearing the pebble, I'd still pull my wrist up to check notifications, looking like a fool in the process.
[justified_image_grid ids="1036, 1033, 1034″ row_height=200]
Surprisingly, one of the best features of the Pebble is the fact that it's waterproof. I listen to music almost every time I'm in the shower now and check my notifications at the same time. The battery lasts about four or five days which is fantastic and has a Magsafe-esque charge that charges the device pretty quickly.
Pebble taps into just about everything the native bluetooth API can handle, but I can see that if Apple (or any phone manufacturer for that matter) made a smart watch specifically for their phone it'll have a lot deeper integration. The small price & fantastic features makes the Pebble a great device to fill the void until proprietary devices are made.