As you may know Gmail doesn't allow you to make a html signature for your emails natively. So here is a quick way to add a little bit of a punch to your emails.
Since Gmail doesn't allow html in it's signatures normally, you will need the Autopen extension for Google Chrome (note there is an extension for Firefox but this tutorial is for the Google Chrome extension). This addon essentially lets you add a html signature at the end of any Gmail message, with basic inline css support.
After the plugin is installed you can go to your Gmail and click the Autopen editor button.

This will open the editor where you can make signatures for your emails, we are just going to make a simple signature with a image and some text.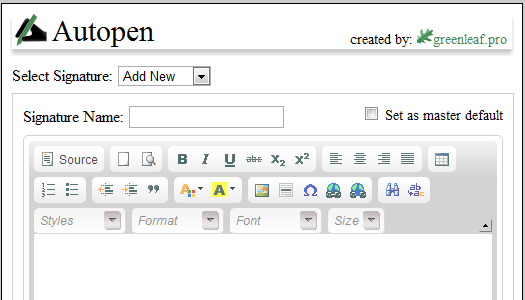 Start by creating a table with 2 columns 1 row, and 0 border.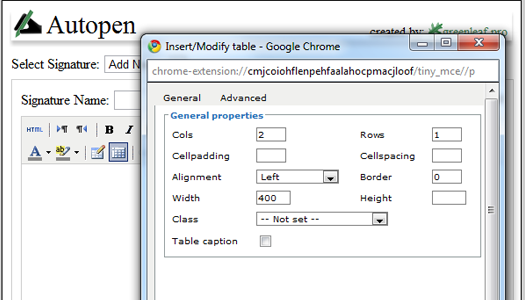 Using this table place a small image on the left, anything that you would find appropriate (a photo of you or something like that). I'll be using an A just for an example (if you need a place to upload an image for this try imgur.com). When adding an image also add an alt tag so for those who don't accept your pictures it's not totally confusing for them.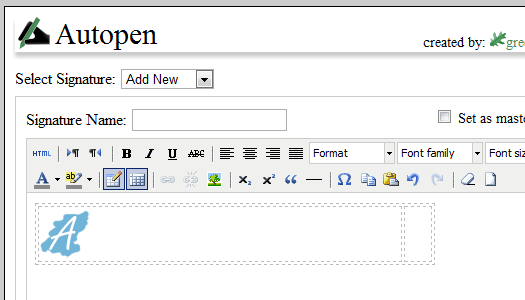 On the right column of the table you will want to add things such as your name, email, website, or phone number. Also format nicely by making your name stick out a little.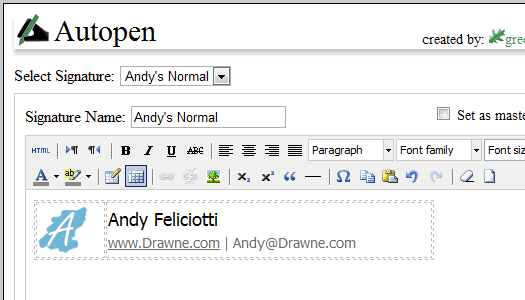 Save your creation and try it out in Gmail, you can pick one of the signatures you make to be the default one that always loads with an email.

You're done! There are plenty of techniques you can put into an email signature Smashing Magazine had a great post about email signatures where you can look for inspiration.
If you have a cool email signature feel free to show everyone in the comments, or email me!